NWAACC HEADLINES
SW Oregon women's wrestling win NCWA National Championship
SWOCC women pin down national title
By Rachel Finney, The World | Posted: Wednesday, March 14, 2012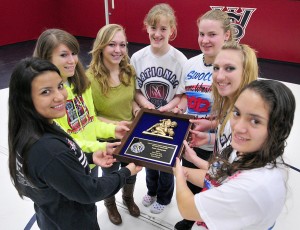 COOS BAY -- The Southwestern Oregon Community College women's wrestling team returned from the National Collegiate Women's Wrestling Association championships with their first national title, as well as three individual champions.
Not bad for the Lakers' first year.
The first-year varsity team, coached by Bo Icalia, returned from Daytona Beach, Fla., Monday morning still basking in their victory as they admired their championship plaque.
'At first it was kind of like, 'Did this happen?'" Icalia said. 'But after, it felt really good."
The grapplers were excited too, with many of them ecstatic to get another chance to compete after high school -- a rarity in the world of women's wrestling.
'We're feeling pretty pumped," said Hannah Moon, who won an individual title at 139 pounds. 'We amped it up, and we all kind of fed off each other.
'It felt like, 'Yes.' Ending with a bang."
In addition to Moon, Biri Mendoza won the title at 130 pounds, and Caroline Crawford won at 148 pounds. Former Marshfield graduate and first-time grappler Hannah Francis finished third at 176 pounds and was named an All-American, and Shay Workman finished third at 121 pounds and was also an All-American. Katy Dawson finished fifth at 121, and first-time wrestler Alejandra Paez finished fourth at 112.
The Lakers took the entire team of seven women to Florida, and they were the biggest squad at the national meet, Icalia said. Southwestern won with 83.5 points, and Pacific University, the only other Oregon school there, finished second with 61.5
Read full article: http://theworldlink.com/sports/swocc-women-pin-down-national-title/article_0984173c-e235-5314-ad9c-982b6b643e56.html#ixzz1pF6G4n4Z
back